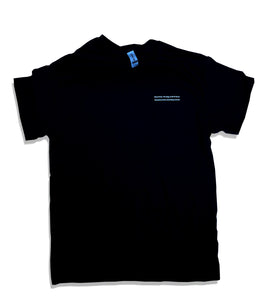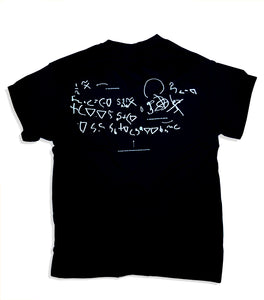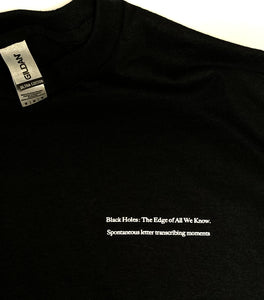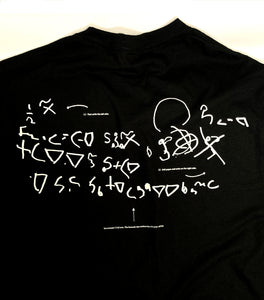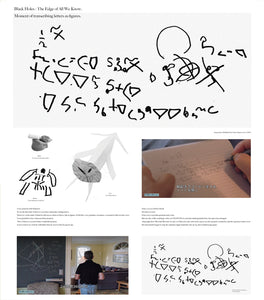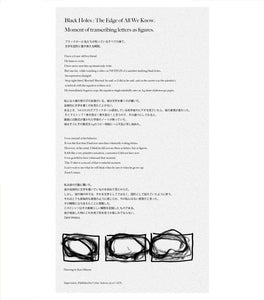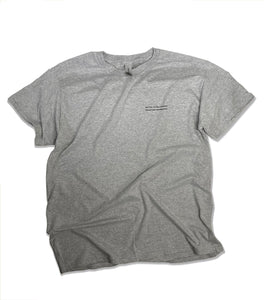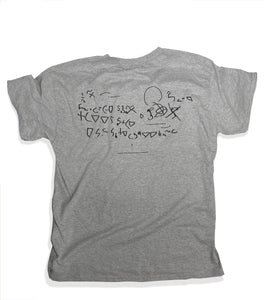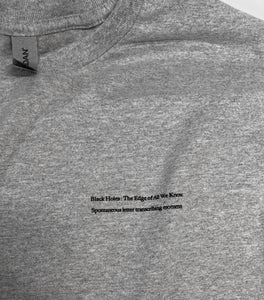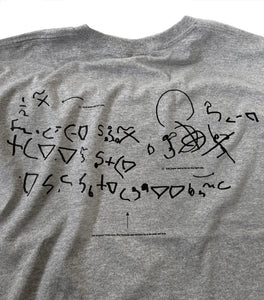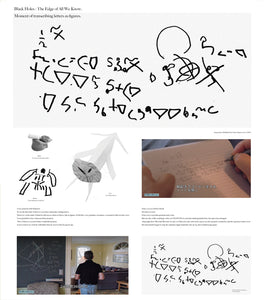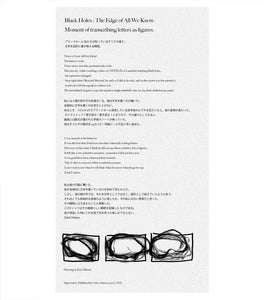 Regular price
Moment of transcribing letters as figures. T-shirts + Process sheet
---
Moment of transcribing letters as figures. T-shirts + Process sheet 

Front: silk screen print
Back: silk screen print

Black Holes : The Edge of All We Know.
Moment of transcribing letters as figures.
I have a 6 year old boy friend.
He hates to write.
I have never seen him spontaneously write.
But one day, while watching a video on NETFLIX of a scientist studying black holes, his expression changed.
Stop right there! Rewind! Rewind. he said, so I did as he said, and on the screen was the scientist's notebook with the equation written on it.
He immediately began to copy the equation single-mindedly onto an A4 sheet of photocopy paper.

I was amazed at his behavior.
It was the first time I had ever seen him voluntarily writing letters.
However, in his mind, I think he did not see them as letters, but as figures. It felt like a very primitive sensation, a sensation I did not have now.
I was grateful to have witnessed that moment.
This T-shirt is a record of that wonderful moment.
I can't wait to see what he will think when he sees it when he grows up.
Translated into Japanese.
ブラックホール 私たちが知っているすべての果て。より
「文字を図形に書き換える瞬間」
私には6歳の男の子の友達がいる。
彼は文字を書くのが嫌いだ。
自発的に文字を書くのを見たことがない。
でもあるとき、NETFLIXでブラックホールを研究している科学者のビデオを見ていたら、彼の表情が変わった。
そこでストップ!巻き戻せ!巻き戻せ!と言うので、その通りにしてみると、画面には数式が書かれた学者のノートが映っていた。
彼はすぐにその数式をA4のコピー用紙に一心不乱に写し始めた。

私は彼の行動に驚いた。
彼が自発的に文字を書いているのを初めて見たからだ。
しかし、彼の頭の中では、それを文字としてではなく、図形として捉えていたように思う。それはとても原始的な感覚のように感じられ、今の私にはない感覚だと思った。
その瞬間に立ち会えたことに感謝した。
このTシャツはその素晴らしい瞬間を記録した ものである。
彼が成長した時にこれを見て何を思うか楽しみでならない。
BODY GILDAN 6.0oz

| Size Guide | | M | L | XL |
| --- | --- | --- | --- | --- |
| Length | | 72 | 75 | 79 |
| Body Width | | 51 | 55 | 60 |
| Sleeve Length | | 17.5 | 19 | 20 |
| Shoulder Length | | 47 | 51 | 58 |
Black Holes : The Edge of All We Know. by Netflix 
See around 17:42 min